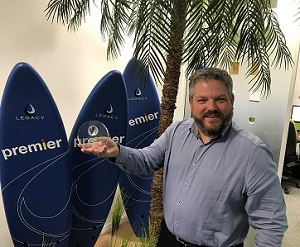 Dedicated travel agency staff records 25,000 miles for EVERY
More than 100 employees of Premier Travel, based in Cambridgeshire, put on their walking shoes and collectively walked nearly 25,000 miles.
It was the equivalent of covering the circumference of the world – around 24,901 miles – and took them around 100 days.
The challenge was organized to mark Premier Travel's 85th anniversary and started with a more modest goal of walking 8,500 miles in 85 days.
However, after achieving this goal, the team decided to up the ante and raise even more for their chosen charity.
Sales Manager Steve Cox said: "We've done 8,5000 miles in about 30 days, but we couldn't let it stop there, so we took it on a virtual ride around the world – almost 25,000 miles.

"That was our new goal and although we didn't achieve it in 85 days, we reached our goal in about 100 days.

"People who wouldn't normally go out for walks got involved and we got very positive feedback from them saying they felt better both physically and mentally.

"We wanted to give something back to our community and as it was our 85th year we set ourselves the goal of raising £8,500.

"We are currently on £7,000 and intend to increase this by Christmas.

"We were concerned about the well-being of our staff, which is why we issued the initial challenge to collectively complete 8,500 miles in 85 days."
Steve completed a 30 mile walk between the Huntingdon, St Neots and St Ives branches to raise awareness of the challenge and raise additional funds for EACH.
He was also one of 13 staff to undertake the 32-mile walk between Cromer Docks in Great Yarmouth in July.
"It was on the hottest day of the year so it was very strenuous," said the 48-year-old, who lives in Huntingdon.

"It was absolutely brutal, but we got through it and gained something positive.

"We wore special t-shirts and caps featuring the vacation companies that sponsored us. It worked really well and it was great to support EVERYONE.

"It's a wonderful charity and everything it does is truly amazing and heartfelt.

"When we were on our walk from platform to platform, we were in pain and had blisters on blisters, but we talked about the children being cared for in hospices.

"Our discomfort was going to end, but maybe not theirs. This thought put everything into perspective and kept us going.
Premier Travel is an independent, family-owned travel company which has operated throughout East Anglia for 85 years.
He is proud to be linked to EACH, having previously sponsored Bubble Rushes in Norwich and Huntingdon, as well as the Splash Out event in Bury St Edmunds.
As a bonus and in recognition of his fundraising efforts, Steve was recently named Community Champion at the Association of Touring and Adventure Suppliers (ATAS) Awards.
Unfortunately he was unable to attend the ceremony in Birmingham due to COVID, but he is pictured with his award at Premier Travel's Cambourne headquarters.
"I felt very proud and honored to receive it," he said.
"Unbeknownst to me, I was nominated by a supplier, which was a nice touch.
"However, although it has my name on it, it's for the whole band and everyone involved. It's about our team and our collective effort.
EACH provides care and support for children and young people with life-threatening conditions across East Anglia.
It has almshouses in Milton, near Cambridge, Framingham Earl, near Norwich and Ipswich.