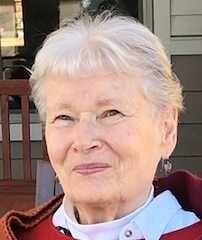 Linda Garrett | Death notice | news-gazette.com
SAVOIE – Linda L. Garrett, 80, of Savoy entered Jesus' arms at 2:47 p.m. Wednesday, June 30, 2021 at the Anderson Community Hospital, Ind.
She will be missed as a loving mother of five, caring mother-in-law, grandmother of 15, great-grandmother of 14, and spiritual friend and mentor to many over the years.
Memorial services will be held July 8 at the First Baptist Church of Champaign in Savoy, with her son-in-law, Reagan Grubbs, officiating. Visitations will begin at noon and the funeral at 1 p.m. Interment will be in Prairieview Cemetery, Savoie.
Linda was born December 11, 1940 in West Frankfort, daughter and third child of Lucyan "Louie" (Guminski) Ellis and Oralee Bristow Ellis. She grew up attending Church of God in West Frankfort and graduated from Southern Illinois University with a BS in Business Education in 1963. She was married to David L. Bailey and had two children, Scott and Andrea. While living in Decatur, she attended the People's Church of God and created the WASA (Earning as a Single Adult) group which she helped lead.
On July 12, 1980, she married Donald E. Garrett in Decatur, and he passed away on July 13, 2020, a day after their 40th birthday, and he was next in line for Jesus to welcome her to her home. They have traveled to the United States with many wonderful friends, enjoyed the antics of all of their family members, and have been "snow birds" in South Lake Wales, Florida at Genesis Pointe.
Survivors include her son, Darron Scott Bailey of Anderson; daughter, Andrea (Bailey) Grubbs of Anderson; Mahomet's daughter-in-law Carol Allen; stepson, Jim Garrett of Round Rock, Texas; and her stepdaughter, Susan Sharp of White Heath.
She was predeceased by her husband (mentioned above); brothers, Fred Ellis of West Frankfort and Buddy Ellis of Decatur; and grandson, Patrick Donovan Sharp.
Over the years Linda has taught business courses at West Frankfort, Markville High School (Indiana) and Niantic High School; she has taught adult evening classes at Decatur and Parkland College in Champaign. She worked for the Illinois Power Company as a manager, for Caterpillar Tractor Co. as a secretary, and was a substitute teacher in Champaign County high schools. She was an additional aide at the University of Illinois in a number of departments and graduated with a bachelor's degree in insurance and securities for eight years.
In her later years, Linda volunteered at the offices of her church, the First Baptist Church of Champaign in Savoy, and at Empty Tomb, a Christian service and research organization (emptytomb.org). While wintering in Florida, she attended Church of God in South Lake Wales. In 1999, she created a Prayer Team (GAP = God Answers Prayer) with other friends from South Lake Wales who wanted to stand aside for the students and ministries around them. She was incredibly active until 2019 with the student-athletes at Warner University and the HEART organization. Over the past two years, she has grown closer and mostly spent time with her family.
The surviving grandchildren (spouses) are Kieran (Samuel) Baker of Greenfield, Ind., Griffin Walter-Bailey of Atlanta, Avery Walter-Bailey of South Bend, Ind., Cade Grubbs of Anderson, Mari Walter-Bailey of Chicago, Noah Grubbs from Anderson, Joshua (Ashley) Allen from Asheville, NC, Jami (David) Gillham from Wentzville, Mo., Lindsay (Brandon) Atwood from Bellingham, Wash., Jaise Allen from Mahomet, Brittany Garrett from Round Rock, Devin Garrett of Nashville, Tenn., Jenna Read of Charleston and Hailey (Andy) Boyce of Monticello. The surviving great-grandchildren are Victoria, Gabriella, Annabella, Cayden, Mackenzie, Jackson, Rowan, Gracie, Tyler, Chase, Cayden, Ayden, Rylee and Myles. There are also several nieces / nephews and great-nieces / nephews.
Memorial contributions can be made at Empty Tomb, 301 N. Fourth St., Champaign, or First Baptist Church, 1602 S. Prospect Ave., Savoy. Condolences can be offered to morganmemorialhome.com.